NYSE: FDX
Jul. 30, 

4:00 p.m. ET

More Stock Information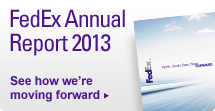 Stock Purchase Information
FedEx is dedicated to serving its shareowners. On this page, you can learn about the Computershare Investment Plan, A Direct Stock Purchase and Dividend Reinvestment Plan for FedEx Corporation Common Stock, as well as other FedEx investment options.



Direct Stock Purchase Plan
FedEx's transfer agent, Computershare, sponsors and administers the Computershare Investment Plan for FedEx Corporation Common Stock. This plan offers direct stock purchase and dividend reinvestment options and is available to current FedEx stockholders as well as new investors. For more information, you may contact Computershare, the plan administator.
By Mail:
Computershare Investor Services
P.O. Box 43069
Providence, R.I. 02940-3069
By Phone:
1-800-446-2617 (U.S. or Canada)
1-781-575-2723 (outside the U.S. or Canada)
By Internet:
Computershare
Important: The website to which you are being provided a link above is not part of the FedEx website. This link is provided for your convenience only. FedEx makes no representation as to the accuracy of any information contained in the linked website.



Other Investment Options
You can invest in the common stock of FedEx through many financial institutions such as full-service brokers, discount brokers and online brokers. Minimums, fees and other terms vary. Consult your local listings or financial advisor for more information.
This communication does not constitute an offer to sell or the solicitation of an offer to buy any security.